We are constantly reading, discussing, and sharing book recommendations around the FEE office. If you are still searching for a last-minute gift this holiday season, check out what we are currently reading. (It's not just economics!)
Lawrence Reed, President
The Art of Thinking Clearly by Rolf Dobelli
Why do so many people embrace foolish ideas, trust in seductive slogans, or pursue logical fallacies to ludicrous conclusions? Often, they simply aren't thinking clearly. As the title of this book suggests, clear thinking is neither easy nor automatic. Traps are easily set and the bait appeals. The 99 fallacies addressed by Dobelli in short, accessible chapters are laden with examples and stories that both inform and entertain. We don't have to tell people what to think; if we just teach them how to think, the world would be almost unrecognizably different, and far better too.
Carl Oberg, Chief Operating Officer
The Years of Rice and Salt by Kim Stanley Robinson
The Years of Rice and Salt is a recent classic of alternate history that creates a world in which the black plague kills off 99% of Europe's population and then spins out that tale for a thousand years. Told from the point of view of several people reincarnated over those years, this work is pure creative invention. Robinson clearly did massive amounts of historical research to piece this story together.
Wayne Olson, Executive Director
The Price of Everything by Russell Roberts
Roberts takes on the questions of emergent order, wealth creation, entrepreneurship, innovation, and the role that "the price of everything" plays in bringing all this about. Quite a tall order for a work of fiction, and Roberts carries it off well.
Roberts' vivid depiction of spontaneous order in the movement of flocks of birds is very striking and memorable. Even more so, to me, are the stories that he tells of the emotional dimensions underlying humans striving for success in the economic realm. One of these stories tells of a dying entrepreneur who imagines that he has wasted his life by dedicating it to building his company, losing his wife and family in the process. To persuade him otherwise, a customer whose life was saved by the company's products throws a dinner party for him, at which each of the guests thanks the entrepreneur, one by one, for restoring the life of their friend and teacher and father and husband. This story is powerfully told, but almost in passing, as just one example of a pattern that tends to go unnoticed all the time. The Price of Everything is well worth the read for the way Roberts fashions his discussions of economic principles in down-to-earth terms, but it is these stories that make it particularly moving.
Max Borders, Director of Content
Most people get Roald Dahl books for their kids. Matilda, James and the Giant Peach, maybe Charlie and the Chocolate Factory. But if you have an adult in your life who likes to read something a little twisted, then Roald Dahl is also your man. The Best of Roald Dahl is a fantastic book of short stories—unless you're squeamish. There are tales of disembodied (but living) brains, cruise ship suicides, and bizarre tales of infidelity. (Yeah, this ain't your kids' Dahl.) It is a fantastic—even literary—collection from a man who wrote great things for grown-ups, even if he buttered his bread with the dreams of children.
Michael Nolan, Managing Editor, The Freeman and FEE.org
Nilsson by Alyn Shipton
It's not necessary to be a fan of Harry Nilsson in order to enjoy Alyn Shipton's biography, released this past summer. Stories about Nilsson usually include a lot of substance abuse and a Beatle or two, and there's plenty of that here, of course. But what stood out to me was his staggering resilience and work ethic, and the apparently bulletproof good cheer he was known for throughout. Born to a large, poor family of Irish immigrants, Harry had to bootstrap himself into two careers: He'd work all day running the computer system for an L.A. bank, then work all night writing music, schlepping his songs around town with whatever spare time he could scrounge up. When he finally got a contract with Capitol, he showed up at his office each day like some ambitious VP and kept cranking out one record after another, constantly trying new things all the while. Between pursuing his own artistic development and enjoying the money and fame it earned him, Harry might have worked even harder after he made it than before. He managed to survive his vices long enough to put together a large, loving family, and he left behind no enemies I've ever heard of. Everybody loved Harry. Usually (like his albums) funny, scandalous, inspiring, frustrating, beautiful, and terrifically sad all at once (what if he'd preserved his voice? What if he hadn't died 20 years too soon?), this isn't so much the biography of a famous artist as it is the story of the good life, in every sense of the term.
Chuck Grimmett, Director of Web Media
The Big Switch: Rewiring the World, from Edison to Google by Nicholas Carr
In The Big Switch, Carr takes a look at the digital revolution's move toward cloud computing and draws strong historical parallels to the electricity industry. No longer are we loading up on our own personal computing power, storage, and programs. Just as businesses no longer make their own power with local rivers, we are outsourcing computing to companies that can take advantage of economies of scale and provide better service at much cheaper prices than we could ever get ourselves. Carr's style is eloquent and readable. The tech and history buffs in your life will love this book.
Jason Kelly, Web and Social Media Associate
The Invisible Hook: The Hidden Economics of Pirates by Peter T. Leeson
In The Invisible Hook, economist and pirate-aficionado Peter Leeson gives readers a clever, entertaining, and intellectually thrilling look at the hidden economics behind the choices and actions of eighteenth-century pirates. As much a pirate history lesson as it is a book about economic theory, Leeson uses the pirate code, Blackbeard's democracy, the division of plunder, and many other aspects of infamous pirate behavior to explain that individuals, even those living within a violent and stateless society, make rational, incentive-driven choices that often lead to social cooperation. A fun and compelling read, The Invisible Hook makes a great gift for anyone interested in pirate lore and political economy.
Richard Lorenc, Director of Programs and Alumni Relations
Civilization: The West And The Rest by Niall Ferguson
As a popular historian, Niall Ferguson can teach us a lot about how to better communicate complex ideas. At the risk of oversimplifying, Ferguson identifies the "six killer applications" that permitted the West to lead the course of humanity's past five centuries: competition, science, private property, modern medicine, the consumer society, and work ethic. Locke, Weber, Smith—this book has it all!
Todd Hollenbeck, College Programs Manager
The Hunger Games Trilogy by Suzanne Collins
Yes, this is technically three books and not just one, however, you will forgive that transgression once you read them. The Hunger Games is a dystopian young adult sci-fi novel set in what was once North America. Following a revolt by the people of the 13 Districts, The Capitol instituted a yearly tradition where each of the 12 remaining districts are forced to send two children aged 12–18 to fight to the death in a televised spectacle deemed "The Hunger Games." These books are the kind that you can read many times and get something new from on each reading. One can draw comparisons to ancient Greek and Roman practices and stories, see anti-war messages, and find inspiration to ignore The State. There are also themes of self-ownership, resistance against a tyrannical government, the corruption that exists even in seemingly beneficent governments, and of course themes of love, bravery, and compassion. The novels also illustrate how institutions such as black markets and property rights naturally emerge even in the most restrictive societies, a theme that will be discussed at FEE's "Life Is Improv: How Art, Culture, and the Free Market Make the World Beautiful " seminar this summer with Dr. Amy Sturgis.
Sara Morrison, High School Programs Manager
Harry Potter by J. K. Rowling
I've been rereading the Harry Potter series since October and would recommend the books to anyone, even if you have already read them. Rowling crafted such an intricate story that the series deserves a second read (at least). The best part about returning to the books is seeing all of the foreshadowing that Rowling provides in the earlier stories. I'm amazed by her creativity, especially when you consider that the series took a decade to complete. Treat your imagination this holiday season, whether you are starting the series for the first time or just want to reread your favorite book of the series.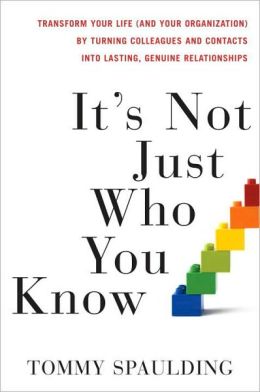 Jonathan Moody, Director of Strategic Partnerships
It's Not Just Who You Know by Tommy Spaulding
As an extrovert who loves connecting, I have always been fascinated by human interaction and relationships. That's why I recommend It's Not Just Who You Know by Tommy Spaulding. This is a great read for introverts and extroverts alike because it helps provide a strategy for building lasting relationships and partnerships in every stage of our lives.
Cameron Sorsby, Donor Relations Coordinator
Brave Genius by Sean B. Carroll
With a little science, philosophy, and history mixed together creating a solid narrative, this book will keep you intellectually engaged over the holiday break. Brave Genius tells the story of how two Nobel Prize winners, Jacques Monod and Albert Camus, struggled to maintain their creative energies during a time of bleakness before they would go on to attain the highest achievements in their fields of study and develop an inspiring friendship. While the detailed historical accounts from the second World War to the rise of communism in Europe are the most impressive aspects of Sean Carroll's writing, it is the shared challenge of Monod and Camus to realize their own genius through intellectual collaboration that makes this story a worthwhile read. You would be absurd to not pick it up!
Carrie Leggins, Alumni Relations Associate
The Count of Monte Cristo by Alexandre Dumas
It's filled with insights into human nature, and the writing itself is wonderful. While the story is heavy with injustices and misfortunes, Dumas manages to remind the reader that charity and love still exist, all the while among an intricate plot line and characters who possess uncanny similarities to anyone in our own lives. This is one of my favorite books, and I recommend it for anyone who wants an intriguing fictional read full of depth and detail.